Product:RM9001E
一、 General Description
RM9001E is a high power factor linearconstant current LED driver which isapplied to drive three_stages of highvoltage LED string through the build_inMOS. Excellent EMI performance, smallvolume and long life can be achievedwithout the use of electrolytic capacitorsand magnetic components.
Each LED string can be set flexibly owingto the adaptive LED drive by stagesmechanism of RM9001E with highutilization rate of LED and total outputlumens.
Through the distinctive constantcurrent control technology, it realizesthat constant current accuracy is less than±5% and output current is adjustablethrough external resistor. High powerfactor and low harmonic distortion are theparticular features.It needs a good thermal
dissipation ambient when the current ofLED string becomes large.
RM9001E has over temperatureadjustment function.The reliability of thesystem is reinforced as the output currentreduce gradually when the power ofdriving is overheated so as to keep theheat dissipation beyond the acceptablevalue. The over temperature regulationpoint is 130℃
二、 Features
No transformer and high voltageelectrolysis capacitor
Chips can be used in series or parallelapplication
It works well when the input voltagechanges ±20%
Adjustable output current
3-stages LED string can be setflexibly
Efficiency:>85%
Power factor :>0.98
Over temperature regulation
Package:ESOP8
三、Applications
LED constant current driver under10W.
LED bulbs, fluorescent lamps,spotlights etc.
Other LED lightings of low power.
四、Package/Order Information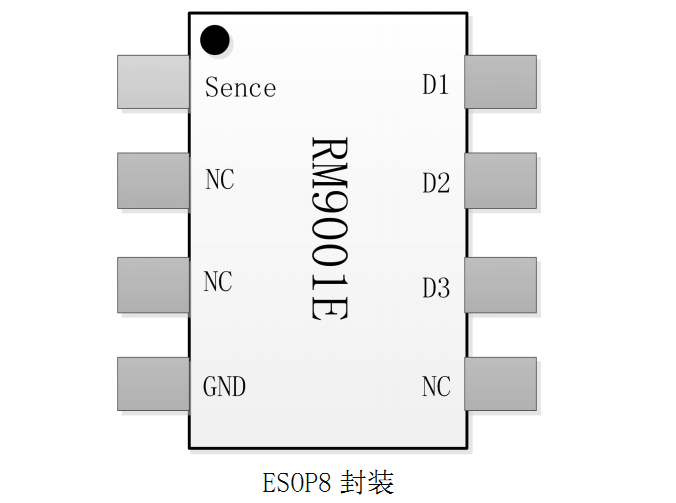 五、Typical Application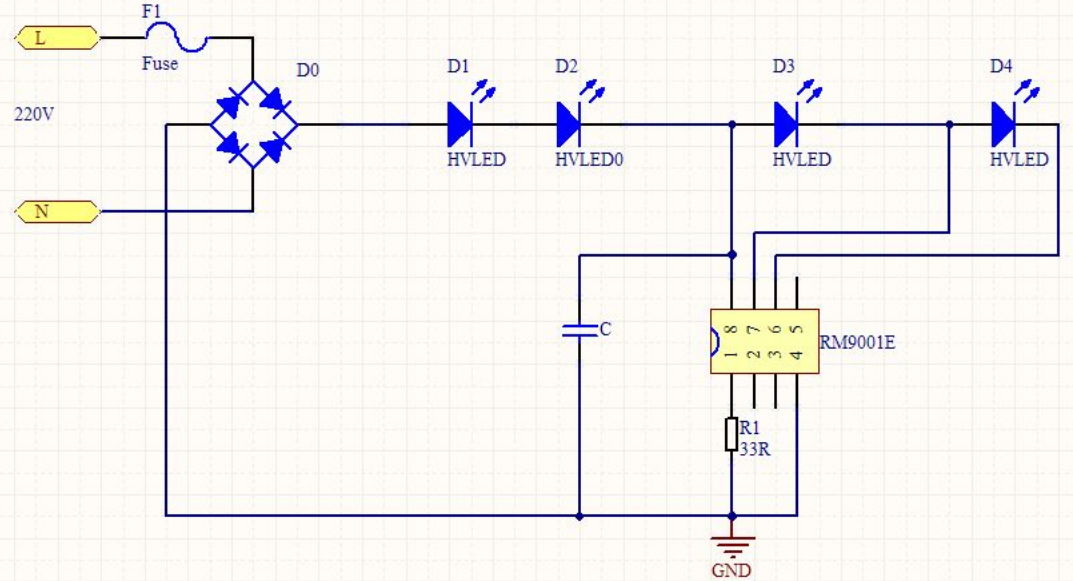 FREE HOT LINE:+86-400-788-7770
Tel:+86-769-81150556 Mob:+86-18929103949 Ms Tang
Tel: +86-769-85638990 Mob:+86-18923224605 Ms Ye
Email: dgzm699@163.com QQ:2057045156 Fax:+86-769-83351643
Head office: No.8, Yanhe East Street, Ailingkan Village, Dalingshan Town, Dongguan City, Guangdong Province, China
Foshan office: No.169 Rongqi Road,Ronggui Village,Shunde District,Foshan City,Guangdong Province,China
Shenzhen office:Baifuhui Industrial Park,Jianshedonglu Road,Longhua District,Shenzhen City,Guangdong Province,China
Zhongshan office:Shijihaoting,Longchang Road,Dongsheng Village,Zhongshan City,Guangdong Province,China
Hangzhou office:Jiangnanmoka,Wenyan Village,Xiaoshan District,Hangzhou City,Zhejiang Province,China
Office Website: www.topctc.com